1
« on: November 20, 2017, 09:15:44 PM »
Today we have another extensive topic - Character's Conditions
Let's just jump straight into it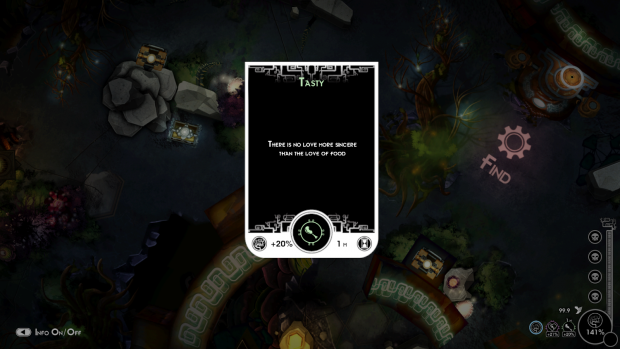 One of the early design challenges during the development of Soulblight was creating a context for all the action the player would have to take in order express his characters. To solve that we've decided to add a survival aspect to our game. We've done it by allowing the character to be a subject of various conditions. To avoid confusion and allow the player to easily compare buffs he receives we've created a special state called synergy. What it does is it represents the character's overall well being (both physical and psychic) and greatly increases damage and resistance. To systemize the mechanics even further we've also divided the conditions into 4 categories:
Positive Conditions - Simple buffs meant to make you stronger by temporarily increasing the synergy. Example: Rage
Negative Conditions -Simple debuffs that won't kill you but make you weaker by decreasing your synergy. Example: Hunger
Injuries - Serious wounds. With every one of these you get closer and closer to death. You can sustain up to 4 Injuries at the same time. Example: Bleeding wound
Taints - The personality traits you acquire during your journey besides giving you a passive synergy buff also unlock a new mechanics. Example: Greed
Now the fun part starts when the different conditions start to intertwine. Let's look at hunger example: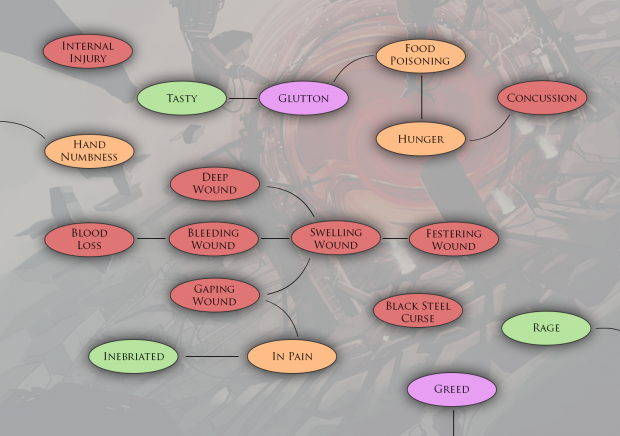 The hunger builds up with the time you play. It starts as a small harmless debuf but can build up to enormous proportion. That's why It is important to eat regularly especially when you have a concussion injury (it will speed up the healing process). Saving candies for later might be a good idea but their nutritional value isn't too high. This means that a piece of candy will nullify the hunger just for a short time. It is good thing to have one of these when hunger pins you down before the boss fight. When you run out of food and you're very hungry you might also consider eating some bad berries. They will give you a food poisoning but sometimes it is better to suffer through it then allow for the hunger to build up even more. If you bump into this dilemma often it might be worth going with Glutton taint. One of it's secondary mechanics is food poisoning immunity.
As you can see each mechanics condition is pretty simple. Put them tougher though and a deep gameplay full of interesting choices emerges
Cya Around,
Kuba